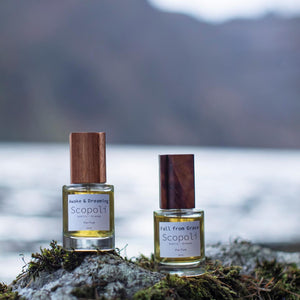 Scopoli
---
Their creations are born out of unconventional and daring ideas that undergo months of experimentation and refining by their perfumers in Grasse, France. Their parfum's are formulated in small batches in our Dublin Perfumery and bottled by hand.

Scopoli's fragrances are a mastery formulation of diverse natural ingredients - extracts from flowers, trees, and plants, all sustainably sourced across Europe, Africa, the America's, and Asia - embodying the natural essence of their habitats. Each ingredient is sustainably sourced and vegan, and our ethanol base is organic food grade. 
Their perfumers Chloé Viala & Elena Pérez Diez are both emerging young perfumers from Montpellier & Madrid respectively, and based in Grasse, France. Their alternative styles and approaches to perfumery leads to a wonderful intertwining of ideas and discoveries which embody all our fragrances. The expertise of Julie Barretta, Fanny Ginolin, and Laetitia Prével has also been pivotal in the fine-tuning of our creations.  Together, their style is described as being deeply explorative, musical, and exciting. 
​
---
---